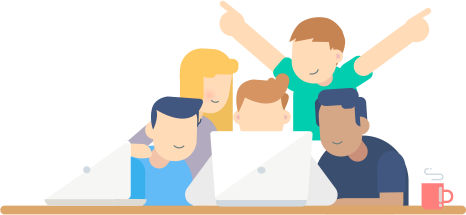 Media
Student Safety Solutions
With offices on three continents, Securly is one of fastest-growing EdTech companies in Silicon Valley. Heck, maybe even the world. With pioneering developments, Securly continues to be a leader in an industry that is continually evolving. 
From tools that help adults create a kid-friendlier Internet, to an AI that recognizes signs of bullying and even intuits risks of self-harm, Securly will continue breaking new ground in order to meet problems head on. For every child that we empower to stand strong, for each kid that chooses hope over hopelessness, Securly is motivated to continue forging ahead.

Our Team
WORK & PLAY
Catering, cocktails, on-site games, massage chairs, freedom to sit wherever you want, these are a few of the things that make working at Securly fun. But it's also the dynamics that come about organically by working with friendly, charismatic, and sometimes goofy co-workers. 
HEALTH & WELLNESS
A lot of companies claim to believe in a work-life balance, but Securly walks the walk. Why? Because an unhappy employee is not at the top of their game and we want you to do your best work. An amazing benefits package includes full medical, unlimited PTO, and even access to an in-house gym. 
SALARY & OPTIONS
Competitive salaries are par for the course here. If you're brought on board at Securly, it's because you're talented and we like you. As such, we want you to succeed both
as an individual and as part of the Securly team.
LEARN & GROW
If things like cubicle walls and executive washrooms are objectives in your professional career, then Securly's probably not the right fit. We operate without any professional hierarchy staring you in the face, meaning that all members of the team, from the CEO to the interns, are peers.