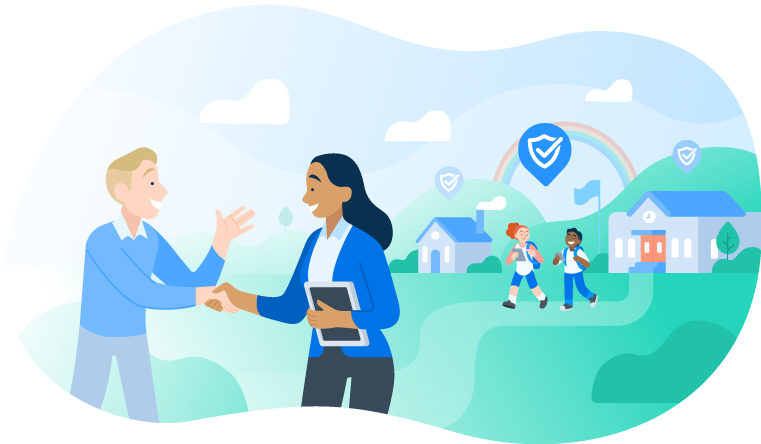 Why Partner with Securly?
Securly was founded with a single mission: to keep kids safe online. We have developed integrated and cloud-based solutions which are now the gold standard in student safety. Partner with Securly and join us in our vision for a digital world made safer and healthier for all kids.
DISRUPTIVE TECHNOLOGY
Securly offers the only dedicated K-12 student safety portfolio in the industry.
PROFITABLE PARTNERSHIP
Drive your business success with competitive pricing and margins.
CHANNEL FIRST
Aligned and focused on mutual success and future growth.
The Securly
Partner Program
The Securly Partner Program is a tiered program based on Securly certifications, expertise and purchase commitments. As partners progress through each tier, profitability and benefits increase.

Top Billing: 2019 Cloud Partner Program Guide
Read More
THE SECURLY PARTNER PROGRAM IS DESIGNED TO DELIVER:
Sustainable revenue opportunities through our licensing program
Sales and technical certification training
Marketing collateral and lead generation campaigns
Co-branded sales and marketing collateral
Market Development Funds (MDF) for approved lead generation
Best-in-class channel account support
PLATINUM
Platinum partners receive the highest level of privileges and rewards.
GOLD
Gold partners are provided additional resources complementing the online sales and marketing tools.
SILVER
Silver partners have access to partner portal resources, and are eligible to participate in deal registration.
AFFILIATE
Entry-level membership in the Securly Partner Program.
What Our Partners Are Saying

"We believe Securly is the gold standard in student safety. By partnering with Securly, FSI provides our clients with the visibility they need to maintain safety at all times and across all devies. We look forward to building on this relationship in the years ahead."
Brij Patel
Chief Executive Officer, FSI